5 Plants to Add Bold Color to Your Landscape
We have been designing residential landscapes for more than 15 years – with each project being exciting and different. We formulate our approach with the homeowner's desires, personality and style in mind, and consider curb appeal as well. That being said, over the years we have frequently used one or all of these 5 plants because these varieties always make a residential landscape stand out with their visual appeal.
1)
Weigela — "Wine and Roses"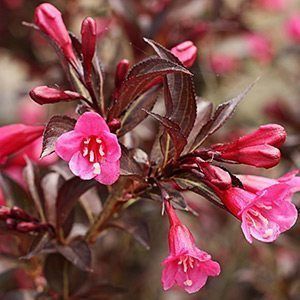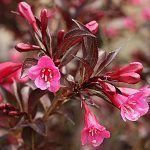 Weigela is a shrub that's been around for years and adds great color and accent to your landscape. It can be used to accent flower beds and entryways. We favor the "Wine and Roses" variety, which has dark purplish leaves and beautiful reddish-pink flowers that begin to bloom like crazy in the spring. The more sun, the more blooms. Weigela is low-maintenance, is not susceptible to many pests and grows well in the typical clayish Chicago soil.
2) Hydrangea Macrophylla
—
"Glowing Embers"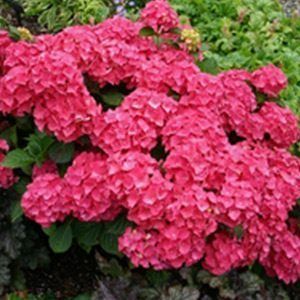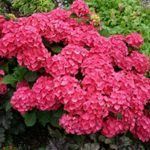 The Hydrangea is another one of our favorite plants. Like Weigela, it is a shrub that can grow to about 4 feet tall and 4 feet wide. It produces beautiful large round clusters of flowers known as "mopheads" throughout the summer. Hydrangeas prefer a partial sun environment. The "Growing Embers" variety – our favorite – has a rich pink to a ruby-red color, and the flowers will keep their color because of Chicago's alkaline soil. Blue Hydrangea require a more acidic soil, so if you plant blue ones, expect them to turn red. Glowing Embers also has a hardiness rating of 5-9, which makes them a perfect fit for Chicagoland. (Learn more about Hardiness zones.) Hydrangeas like water and moist soil, so be aware of that while selecting an area to plant. They are beautiful in garden beds, on landscape edges and even thrive well in containers. Here is a great resource if you would like to know more about Hydrangeas.
3) Allium
—
"Globemaster"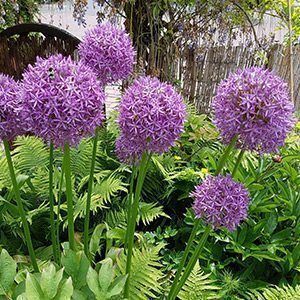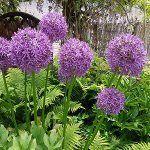 Allium is a family of plants that onions, shallots, and chives belong to, but many of the varieties are also beautiful flowering plants. The Allium "Globemaster" is one of these and is often referred to as the "Ornamental Onion." The "Globemaster" produces large, round, eye-catching lavender or purplish flowers as big as 8 inches in diameter on tall stems that will tower above your other flowers. They don't take up a lot of space, making them a great addition to your gardens. Like most flowering plants, this variety loves the sun but only needs about 6 hours or so a day. The "Globemaster" begins to bloom starting in early summer, but the bulbs should be planted in fall for best results. They are Chicago-hardy plants, and are deer-, rodent- and drought-resistant, making them easy to care for. They are also very fragrant and attract bees and butterflies, so that's a plus. An insider tip: The foliage at the base is not that pretty, so shorter perennials planted close to them will hide the base while creating a design so beautiful as to make your neighbors jealous.
4) Hibiscus
—
"Copper King"
The Hibiscus is a popular and beautiful perennial plant, but the "Copper King" (sometimes spelled "Kopper King") species is unique and can make your landscape pop. It's called the "Copper King" because the leaves have a coppery color. The blooms are white with red veining highlighted by a touch of pink in the middle. The "Copper King" blooms are extraordinarily large, spanning up to 10 inches wide or more! They are just an outstanding-looking plant. The "Copper King" will bloom in late summer, attracting butterflies to your garden! They require sun or part sun and moist soil. The Hibiscus "Copper King" looks great both in your garden bed or as landscape accents. As with all Hibiscus, this variety will fall dormant through the winter, and mulch will help protect the roots during the cold season, but it is Chicago-hardy. Tip: Be sure to cut them back in early spring. They will return in the late spring as soon as the soil warms up. It is one of the last plants to come up, so don't think it's dead.
5) Clematis
—
"Diamantina"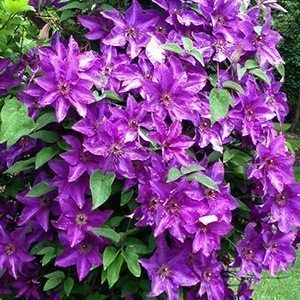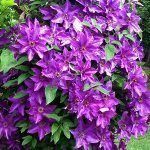 "Bold, beautiful blue/purple flowers" is the best way to describe the Clematis "Diamantina". One of the things that make this plant so great is that the flowers bloom throughout the summer. With each bloom lasting up to 4 weeks, "Diamantina" will provide continuous color to your yard! The Clematis "Diamantina" has a double flower with a pom-pom type bloom in the middle that pops against its lush green leaves. The plant is a vine that can grow 7 feet or more, which makes it ideal for trellises, along fences or woven around shrubs. It requires a mostly sunny environment and moist soil, so like the Hibiscus "Copper King" or Hydrangea, it is wise to keep the roots protected with mulch, but we plant smaller plants in front of it too and it works great! Clematis "Diamantina" is the perfect way to add beauty to your landscape. Read my article, "The Dos & Don'ts of Mulching" to learn more about proper mulching.
Well, there you have it – straight from our bag of Chicago landscape design secrets! – the 5 best flowering plants to make your landscape pop with color. Incorporating any or all of these plants in your landscape will make a beautiful environment you can enjoy for years to come.